Road Construction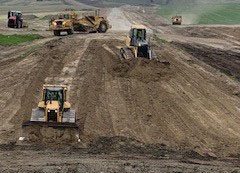 Road Construction services are required primarily to build or reconstruct roads within Vulcan County and activities include:
engineering
road building
reconstruction
roadway drainage
fence removal & replacement
relocation of utilities from right-of-way
crop damage reimbursement
---
Safe and efficient operation of equipment and general workplace safety are a top priority. The Road Construction crew assists with road maintenance, while maintaining high levels of communication with staff and management, and externally with the public at large.
For all inquiries call the Road Construction Foreman, at (403) 423-0148.