Maps & Addressing
Vulcan County utilizes geographical information systems (GIS), mapping applications and spatial data sets on a daily basis. Ownership maps are updated each year and are available as a free downloadable PDF or as printed paper maps to purchase from the Vulcan County Administration Office.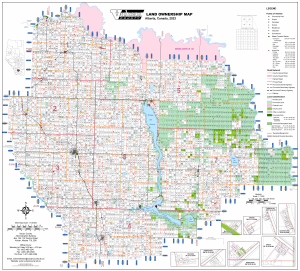 Click HERE for a PDF version of the County's Ownership Map.
Other spatial data sets include:
Addressing
Road Networks
School Divisions
Assessment Information
Current and Historic Air Photos
Signage Inventories
Fire and Recreation Districts
Land Parcel Boundaries
Road Project information
Places of Interest
Oil and Gas Locations
Bridges and Culverts Inventory
Electoral Divisions
There are many other PDF maps available within our Map Room. Spatial datasets such as Addresses, Roads, and Places of Interest are available on AMDSP's AMOS website http://amdsp.ca/amos.html.
Click the links below to view: