Notices & Advisories
This page is dedicated to official notices of Vulcan County.
Equipment Sale
2018 Chevrolet Silverado – SEALED BID- Closes on November 30, 2023 at 4:00 p.m. MST.
For instructions and the Bid Agreement Form click here.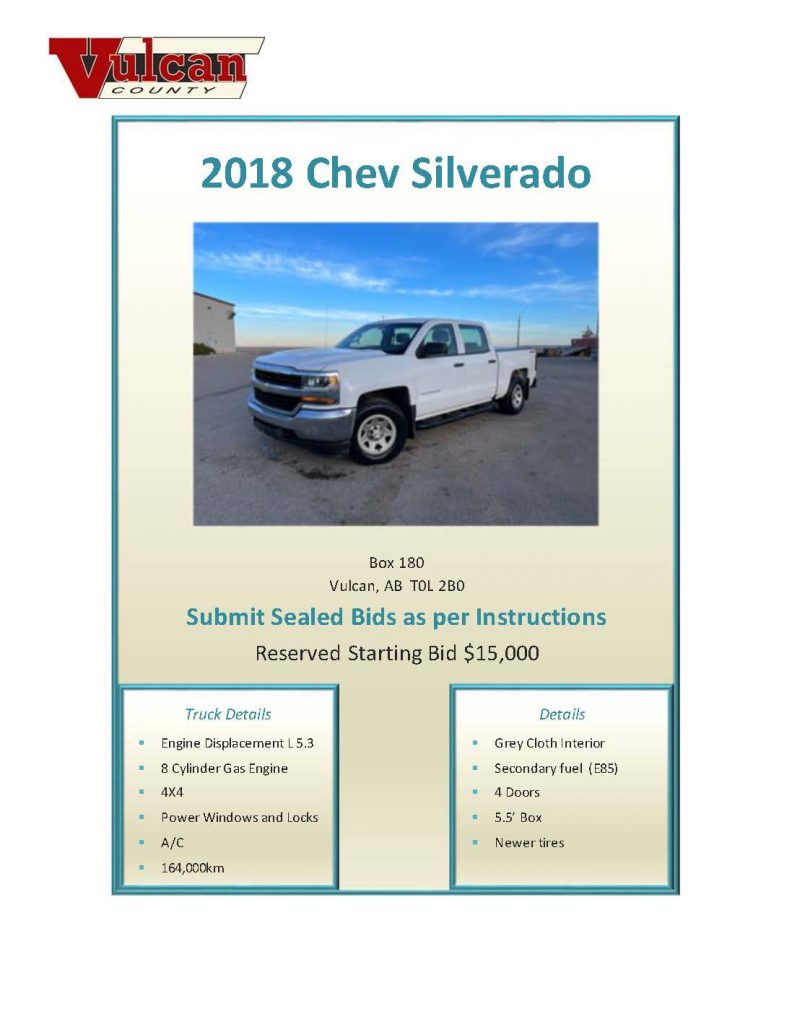 Public Hearings
December 6, 2023 – 10:30 a.m. – Bylaw 2023-028 Land Use Bylaw Amendment. The purpose of the bylaw is to alter the language regarding the required public information session for Renewable Energy Projects to echo the criteria established for Commercial/Industrial Energy Projects in the Land Use Bylaw.
Proposed Tarping Bylaw
Vulcan County is in the process of engaging the public on a proposed tarping bylaw.
Current Status: Reviewing options for an open house
Timelines:
Council gave first reading to Tarping Bylaw 2023-019 on June 7, 2023 (a bylaw must receive three readings to be approved, and public participation is encouraged)
Tarping Bylaw Survey – active from June 19 to July 31, 2023
Tarping Bylaw Survey Results – presented to Council and the public on August 2, 2023
Council directed Administration to provide options for further public engagement and an open house
Background:
The proposed Tarping Bylaw was developed in response to concerns and complaints received by our Enforcement Department regarding unsecured loads travelling on roadways in Vulcan County. Currently, officers can only fine a driver if they have witnessed debris falling off a vehicle. There is no mechanism in place to fine a driver for not having a load securely tarped; before there is a spill or property damage.
The proposed bylaw consists of the following measures to promote safer travel on our roadways and protect the environment from the spread of weeds:
All vehicles (including trucks, tractors, trailers, etc.) must be tarped securely when transporting any loose material. Bylaw Section 4.
If there is a spill and the driver/operator has not cleaned it up, the County may remove the material and charge the driver/operator who caused the spill. Bylaw Section 6.
Hay haulers are exempt from the bylaw (also in accordance with the Commercial Vehicle Safety Regulation). Bylaw Section 7.
An officer is authorized to issue a violation ticket to anyone who has not securely tarped their vehicle. Bylaw Section 8.
Offence Schedule: 1st Offence – $300; 2nd Offence – $600; Subsequent Offence – $1,200. Bylaw Schedule 'A'.
Click here to view Proposed Tarping Bylaw 2023-019
Click here to view the Proposed Tarping Bylaw – Public Survey Results