Virtual County Hall (VCH)
Virtual County Hall (VCH) is an online portal for ratepayers and customers of Vulcan County to easily and efficiently access information regarding their various accounts with the County. VCH allows ratepayers/customers to see outstanding balances, view historical billings, note any adjustments to accounts, etc.
Please click on the following link to access the County VCH online portal:
Virtual County Hall also allows lawyers to generate Tax certificates and Tax Searches themselves at anytime from any device.
Information on VCH Account Activation: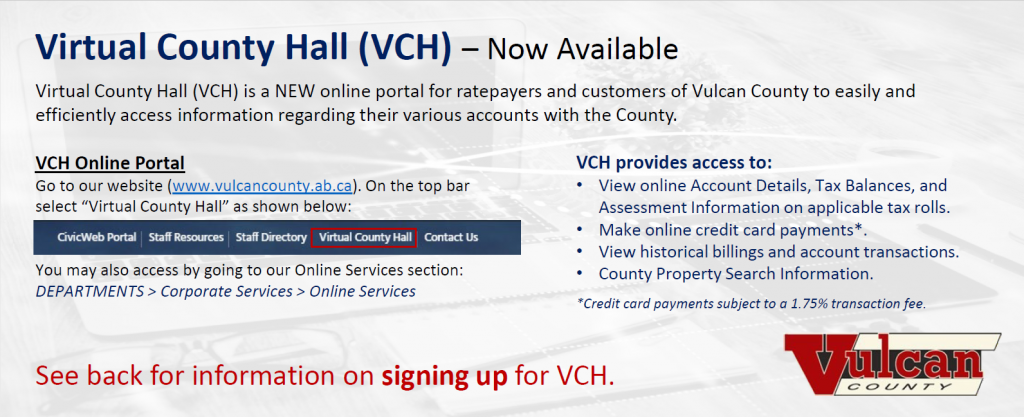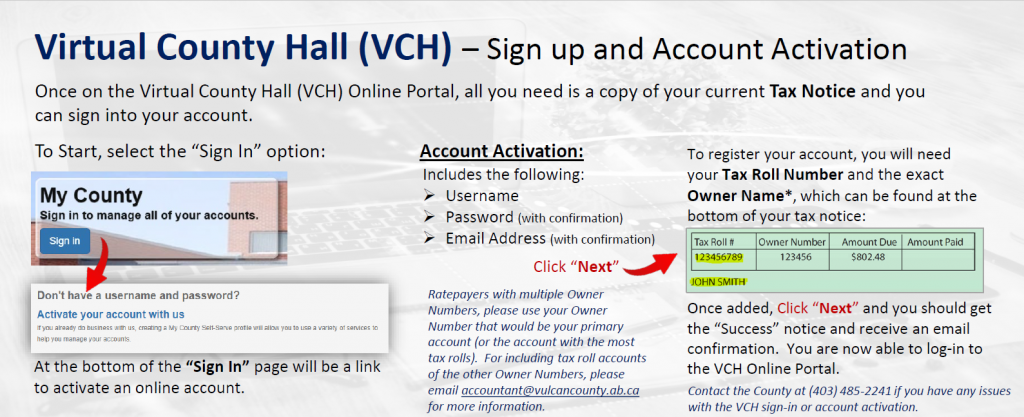 Note: For Registering your account, if your name is on more than one line, please only use the top line. For example:
JOHN ALLAN SMITH &
JANE SMITH
Use "JOHN ALLAN SMITH &" for registering your account (as the second line is a separate data field).
VCH – Multiple Owner Numbers/Accounts:
To allow online access to multiple owner numbers/accounts, Vulcan County has developed an alternative configuration to increase the usability and effectiveness of VCH in which a Primary Owner Number can be assigned as a "secondary / non-titled owner" on the other owner number's tax roll accounts. This will provide the VCH User Account with online access to tax rolls under other owner numbers/accounts.
Please click on the VCH Multiple Owner Numbers – Access Form to get this setup on your VCH Account.