Map Room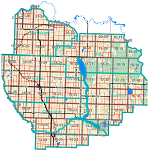 Welcome to the Vulcan County Map Room. Click the link for the map you wish to view and it will take you to the online mapping and/or the downloadable PDF versions.
Ownership maps are updated each year and are available to purchase from the Vulcan County Administration office.
Click HERE for a PDF version of the County's Ownership Map.
The County also maintains an Online Interactive Mapping System, which includes the following:
Interactive Grading Map

This map contains the Vulcan County grading activities for the last 4+ years.

Assessment Information Maps

This page gives you access to assessment information for all properties in Vulcan County through our online mapping application.
The following are some of the County's PDF maps available to the public: